With the digital age giving us the chance to explore music from the comfort of our couch, there is no longer any denying the importance of strong visuals. The music industry nowadays is based on attention instead of dollars. Bands compete against the never-ending streams of social media content. So you're in a band? That's nice, but let me tell you one thing: nobody cares.
It's nothing personal. It's just that average, everyday humans have access to millions of photos and videos at their fingertips. The struggle to grab anyone's attention long enough to listen to a 3-minute song is real. People are always distracted and it's making it more and more difficult for musicians to build their fan base.
How the hell are you supposed to level up in the music industry if it's so hard to win anyone's attention?
Here's my best advice – you need a stellar visual element involved with everything that you do.
Having great videos and photos can make the difference between someone clicking on your band or not (or on someone else's).
The great news? Becoming great at crafting strong visual assets to your music is entirely within your means.
With a bit of hard work you'll be able to begin separating yourself from the horde of aspiring full-time musicians with slick visuals that help take your music career to the next level.
It's time to release a new song? Choose YouTube over SoundCloud. Create a teaser videos to build excitement among your fans.

Browse examples:
Then, release your new music using a track video or a lyric video. Keep it simple, but keep it visual.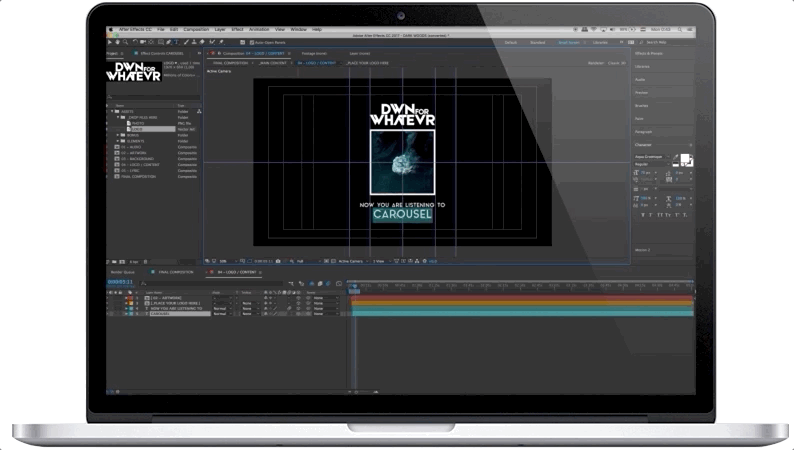 With our modern & dynamic Adobe After Effects templates, your lyric video will be unforgettably good. All sets are packed with customisable background, Lyric Animations (Typography) and much more. Video tutorial included too!
Check out our templates HERE.